Orea Hotel Pyramida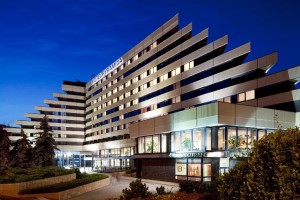 Address: Belohorska 24, Prague, 16901, Czech Republic
Webpage: http://www.hotelpyramida.cz/?lang=en_US
The Orea Hotel Pyramida is a 10-minute walk from Prague Castle. The city centre is 15 minutes away by public transportation. The Malovanka Tram Stop is only 100 metres away.
[googlemaps https://www.google.com/maps/embed?pb=!1m18!1m12!1m3!1d2560.03321024116!2d14.378050815718197!3d50.08566507942662!2m3!1f0!2f0!3f0!3m2!1i1024!2i768!4f13.1!3m3!1m2!1s0x470b950e2491bdd1%3A0x20d03bedba8981ee!2sB%C4%9Blohorsk%C3%A1+125%2F24%2C+169+00+Praha-Praha+6%2C+%C3%87ek+Cumhuriyeti!5e0!3m2!1str!2str!4v1447834134069&w=600&h=450]How to get from the Václav Havel airport to the ECIL 2016 Venue
The distance from the Václav Havel Airport Prague is 15 kilometers.
A taxi ride from the airport to hotel Pyramida will take approximately 15–20 minutes and costs about € 15 (CZK 300–350).
You can also travel by public transport. Go by bus No. 191 to station "Vypich" direction "Na Knížecí". Then change to tram No. 22 and go to station "Malovanka" direction "Nádraží Hostivař". Hotel Pyramida will be 200 meters walking opposite the tramway route. You will need to buy ticket for 32 CZK.
How to get from the Main Railway Station to the ECIL 2016 Venue
There is metro station "Hlavní nádraží" (line C) directly at the Prague main railway station. Carry on just 1 station to the "Museum "station (line C) where you change the line C for line A (downstairs and go to the "Malostranska" station (direction Dejvicka). After getting out from the metro station please go to the nearby tram station and take the tram number 22 (direction "Bílá hora") to the station "Malovanka" (5th stop from the Malostranska tram station).  Then follow the tramway route – hotel Pyramida is located on your right hand side after 200m walking tour. You will need to buy a ticket for 32 CZK for this journey.
Tickets for metro, trams, buses can be bought at the Tobacco shops nearby the subway stations or directly at the tickets machines located at the underground stations.
Contact:
OREA HOTEL PYRAMIDA
Address: Bělohorská 24, 169 01 Praha 6, Czech Republic
Phone: +420 233 102 111